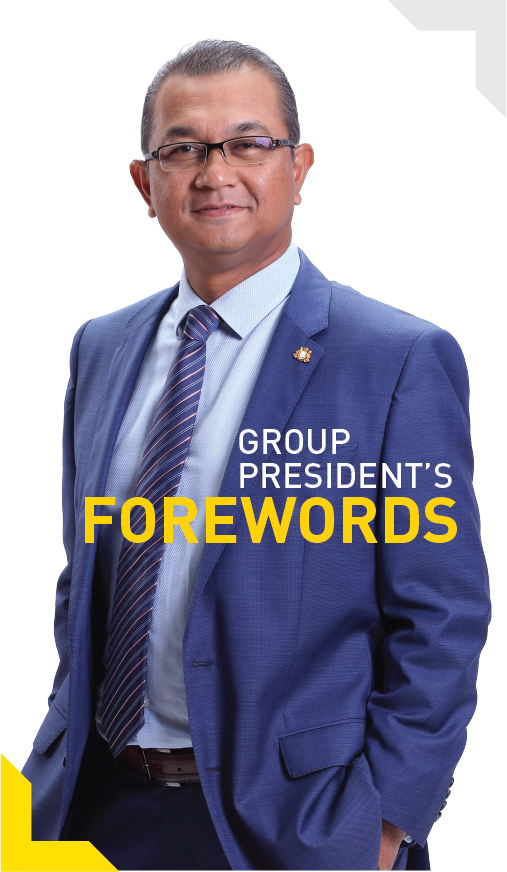 First and foremost, I would like to thank YAB Dato' Dr. Sahruddin Jamal, as the Menteri Besar of Johor and Chairman of PDT Oil & Gas Services, for his continuous support towards our concerted efforts to penetrate the oil and gas industry. We believe that his vision and commitment will pave the path to a brighter and stronger future for PDT as an organization as well as a state GLC.
We have been formalizing our strategy since the inception of the organization. Our mission is straightforward: customer-centricity. Our culture and business ethics are guided by a single key foundation – humility; the very essence that fuels our every motion and nature of choice at heart of everything we do.
In today's complex business environment, we are determined to optimize our human capital potential, the most valuable capital in our company.
Our high performance culture is positioned to consistently uphold our values and be a driving force to provide better services in the oil and gas industry. Most importantly, our commitment to serve the state's best interests is always a top priority while also ensuring long-term benefits of our partners' profitability.
We will continue our journey to strengthen our talent pool to contribute positively to the state and the economic wellbeing of our people, stakeholders, investors and partners through innovative approaches.
We are resolute in our pursuit to improve our organization's health, safety, security and environment (HSSE). This demonstrates our acknowledgement that building a deeply embedded HSSE culture is paramount to our success.
My gratitude to all the PDT Oil & Gas Services employees and partners for their hard work and dedication. I believe that our striving and committed employees are the best illustration of the organization's ethos of persistent determination to succeed.
My sincere appreciation to our stakeholders, investors, customers and partners for their ongoing support thus far and for the confidence they have in our future. With that foundation, we are well positioned to navigate the challenges and deliver stellar results in the long run.
Moving forward, we will continue to commit and strengthen the environment to facilitate lifelong learning and career progression in view of the rapid advancements and growing trends such as artificial intelligence and automation.
On behalf of the Board, I would like to extend my utmost and sincere appreciation to all the members of the Board, the leadership team and the staff members who push on to build and reinforce our company with their hard work, commitment and pursuit of excellence.
Lukman Abu Bakar
Group President
PDT Oil & Gas Services Sdn Bhd